We were all setup at the beautiful Barren Ridge Vineyards for Aaron and Shana's ceremony and reception when Mother Nature decided that it was time to rain. They say it's good luck for it to rain on your wedding day and nothing was going to prevent Aaron and Shana from tying the knot, so we quickly relocated the ceremony to the dinner area and put plan B into action.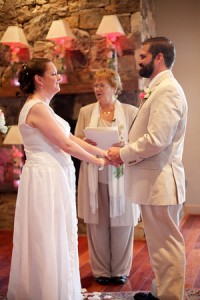 We quickly set up a P.A. system and used a small compact lav microphone for the officiant so the guests could hear all the way to the back of the room.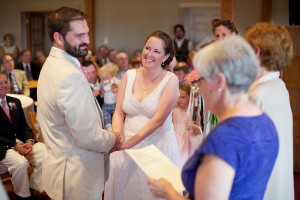 Party Masters decorated the room with 10 LED up lights set to pink, (the bride and grooms likings). We also supplied all of the sound for the band Mason Porter that took to the stage for the first half of the reception.
Mason Porter kicked off the first half with their first dance.
Soon after, we had toast and the cake cutting ceremony.
Now it was time for me to take the stage and see if I could keep everyone dancing.
Other partners who made their wedding such a great event: